Education and Training
Course and workshop topics offered include:
Geology
Archaeology and the landscape
Archaeological monument survey
Geophysical field survey
Computer data processing for geologists and archaeologists
Programmes are specifically tailored for each group. Courses can be theoretical and/or practical and can range from one to five days in duration or be delivered over a number of weeks. Comprehensive notes and/or instruction manuals are normally provided.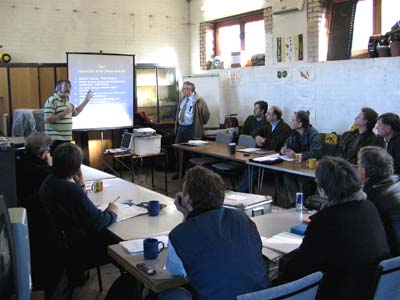 Education and training services are based on over 25 years experience in delivering college, residential and field-based education and training in Ireland, England and Norway. Clients include: community groups, amateur and professional historians and archaeologists, certificate, diploma, undergraduate and postgraduate fieldschools. We prefer to work with clients to develop courses to meet their specific needs.
For residential field courses we can arrange a total package including field survey area, lecture/computer rooms, accommodation and evening lecture programme.
Selected courses successfully delivered
Balla Secondary School, County Mayo
BARS_1 & BARS_2; Balla Archaeological Remote Sensing Project
A Remote Sensing Module for Transition Year Students
Introduction to remote sensing
Geophysical fieldwork and kite aerial photography
Data entry and processing
Data visualization and interpretation
Data Presentation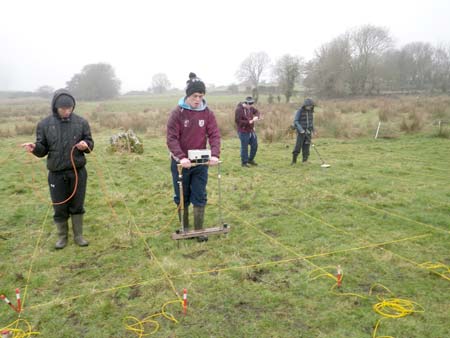 Geophysical Surveys in Progress: Trace of the Past Exhibition
Kilberry Amenity & Heritage Group, Co Meath
Community Training Workshop
Introduction to remote sensing
Geophysical fieldwork
Data visualization and interpretation
Data Presentation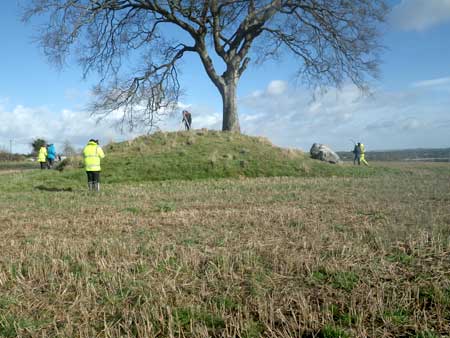 Simultaneous Topographical and Geophysical Surveys of Rathcoon Barrow.
Tóchar Valley Rural Community Network
"The Landscape Heritage of the Tóchar Valley"
An Introductory Course with Thematic Workshops
Course delivered over seven successive Saturdays in local community centres
Introduction to Landscape Heritage
Presentation of Heritage Information 1
Local Geology and Landscape
Evidence of Human Settlement
Local History and Folklore as Tourism Products
Case History; Interpreting the Heritage Landscape of Turlough
Presentation of Heritage Information 2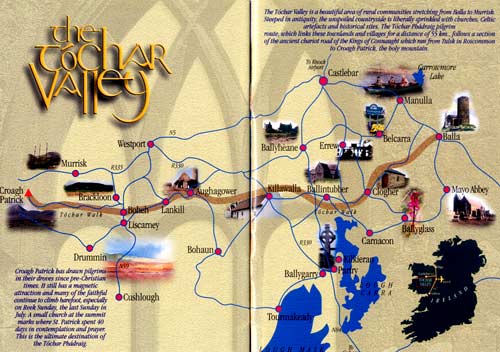 University College Cork
"An Introduction to Archaeological Geophysics"
A weekend course for the MA in Archaeology
Introduction to the Course
Integrated Survey Design
Magnetic Gradiometry and Magnetic Susceptibility
Resistivity Mapping and Tomography
The Development of Archaeological Geophysics in Ireland
Electromagnetic Techniques
Ground Penetrating Radar
Geophysical Data Acquisition and Processing
Guidelines and Limitations on Interpretation
So you want a Geophysical Survey, What next?
Case History: Rathcroghan Mound, Co. Roscommon
Field demonstration of Global Positioning System, Total Station, Magnetic Gradiometer, Earth Resistance, Magnetic Susceptibility, Electrical Resistivity and Tomography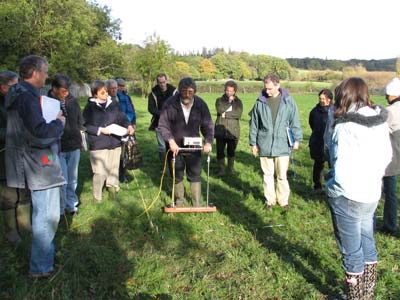 Earth Resistance technique
Birkbeck, University of London
"Geophysical Survey Techniques"
A five day field course delivered at Woodlands Farm, Kent, England
Review of terrestrial and waterborne geophysical applications in archaeology
Introduction to geophysical instruments, survey methodology, quality control and writing technical reports
Setting out survey grids, the global positioning system, use of an Engineer's level and total station
Micro-topographic and magnetic susceptibility survey methods
Processing of survey data 1
Magnetic gradiometry and earth resistance survey methods
Processing of survey data 2
Interpretation of survey results
Question and answer session on the application of geophysical survey in archaeological assessment

Magnetic Gradiometer survey
Illinois State University, Center for the Study of Rural Ireland
Archaeological and Geophysical Survey as part of an excavation fieldschool lasting four to six weeks.
One to one tuition and hands-on experience in collecting archaeological survey and geophysical data as part of ongoing research.
Global Positioning System
Total Station
Magnetic Susceptibility
Magnetic Gradiometry
Earth Resistance
Electrical Resistivity Tomography
Please contact us if you have education and training requirements so we can work with you to develop a programme that meets your needs.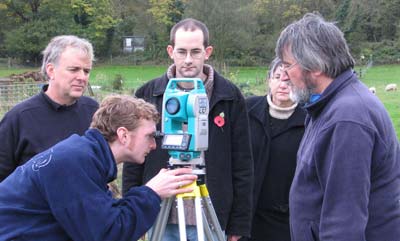 Total Station
Sliabh Coillte Heritage Group, Co Wexford.
Community Training Workshop
Introduction to remote sensing
LiDAR analysis and field-walking
Geophysical fieldwork
Data visualization and interpretation
Data Presentation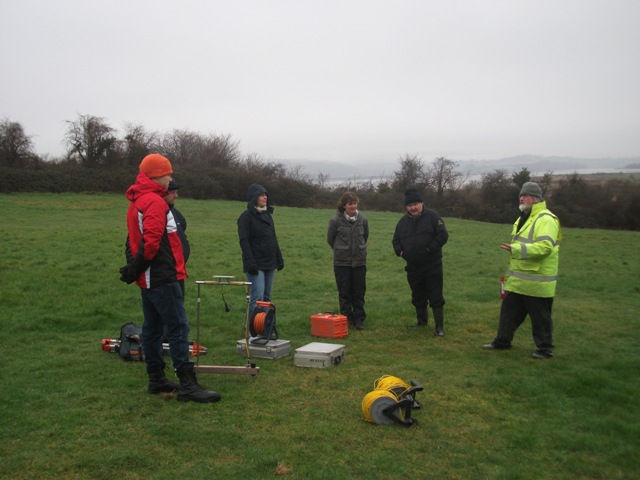 Briefing before starting a geophysical survey at Kilmokea Enclosure
(Photo : John Flynn)
Contact Details

Landscape and Geophysical Services
Convent Road
Claremorris
County Mayo
Ireland
| Archaeological Geophysical Surveys | Geological Surveys | Environmental Surveys | Research & Development | Publications & Presentations | Education & Training | Project Management |